1. 
ROAD BOOK
For each Ford Performance Club tour, you will receive a printed road book at the start of the event.
 2. 
RALLY TRIPMETER
To be able to count the meters you can use a tripmeter or a handy app,
we recommend a few further on this page.
 3. 
CO-PILOT
It is highly recommended to take a motivated co-pilot with you. Using a road book for the first time as a co-pilot is always a fun and educational experience. Driving on your own with a road book can be dangerous!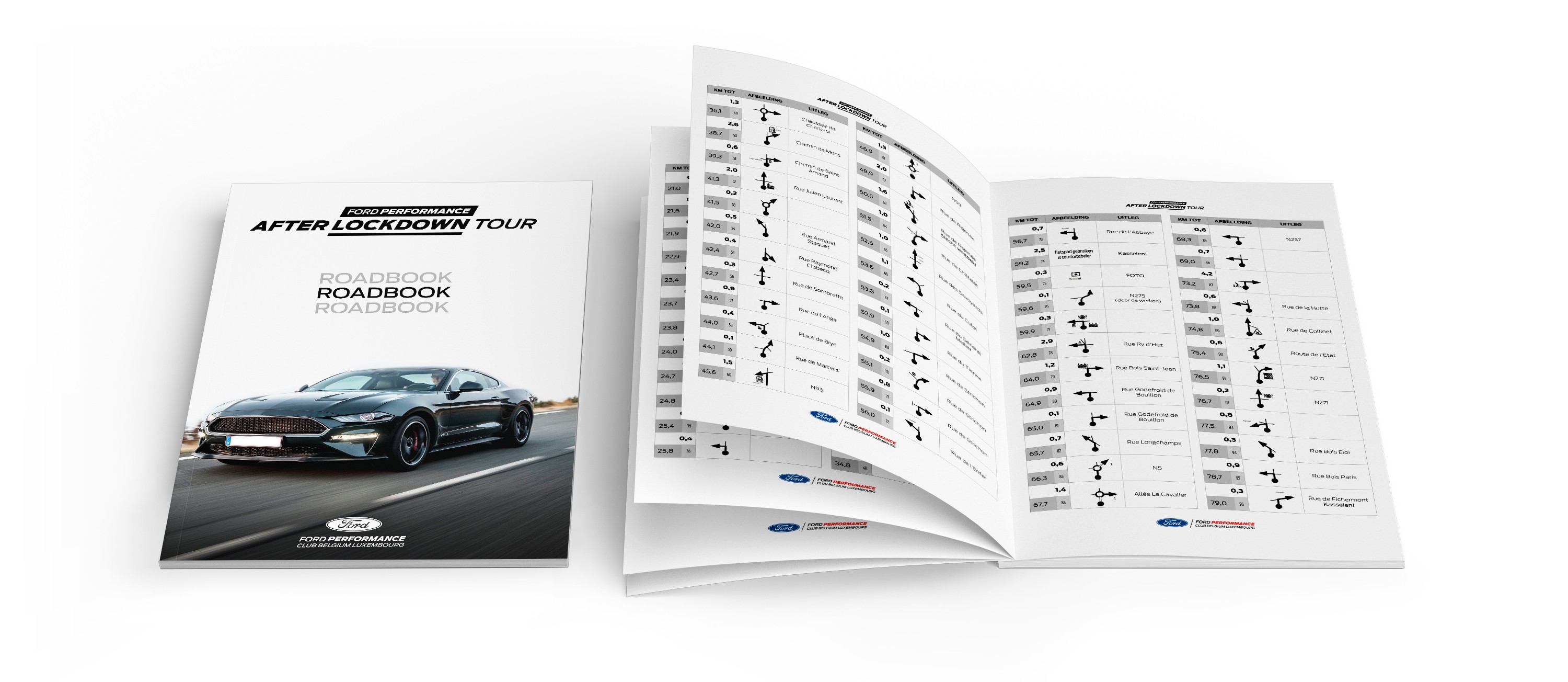 A road book tour is a much more fun and interactive way to experience the journey.
It allows you to take on more fun and scenic tracks in true rally style.
A road book is not only a great added value, it is also easy! 
Once you have read through this page, you are all set for a Ford Performance Club tour!
A ball and arrow road book describes the entire route by means of situation sketches of all important points (crossroads, special obstacles, dangerous situations, ...). Such a point is called a waypoint.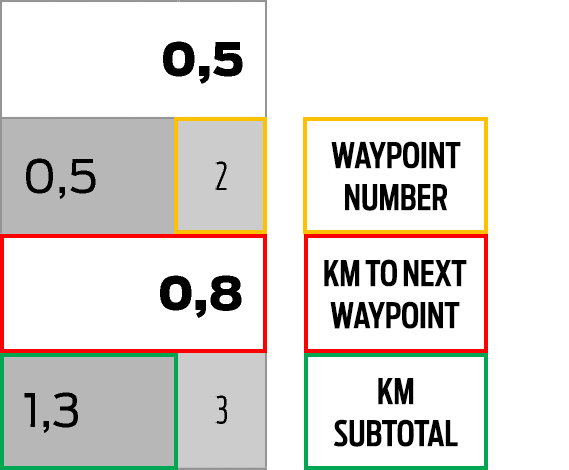 YELLOW
This number indicates the order of the waypoints.
Waypoint 2 is indicated in the example.
RED
This cell shows how many kilometres you have to drive until the next waypoint.
In the example shown here, there is 0.8 km between waypoint 2 and 3.
GREEN
Here you can see how many kilometres in total you already drove at the waypoint.
In this case you have driven a total of 1.3 km at waypoint 3.
You always start at 0 km in both cells, so you reset your trip meter if you used it before.
At each waypoint, you reset the partial counter, the global counter keeps running throughout the trip.
TIP: Mark every situation that you have passed in order to avoid skipping one.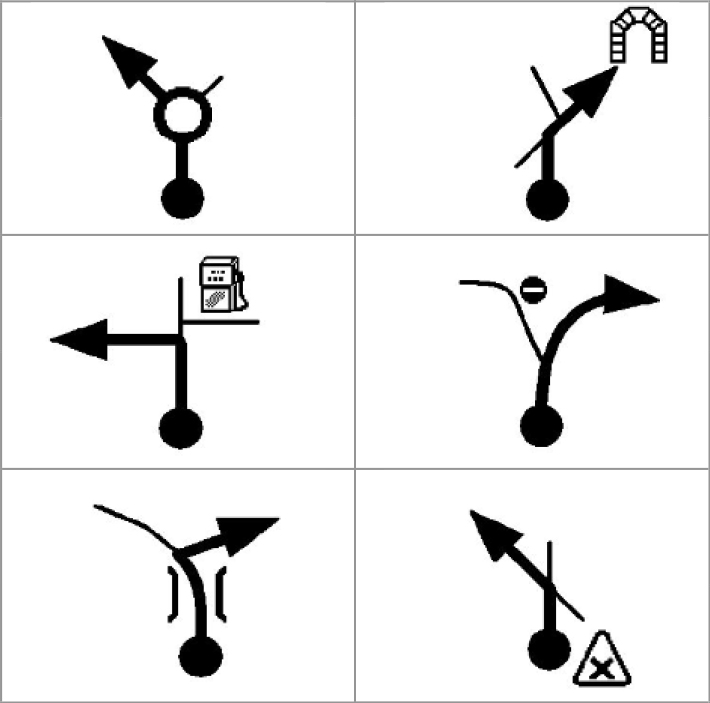 A situation sketch is given at each waypoint.
BULLETIN
The position where you are when you have reached the number of kilometres to the waypoint.

This is where you reset the partial counter.
BOLD ARROW
Indicates the direction you should follow at this waypoint.
THIN LINES
The other roads at this waypoint which you should not take, they serve the purpose of orientation.
OTHER SYMBOLS
These symbols can have 3 functions:
- Landmark (e.g. tunnel, bridge, chapel, castle, ...)
- Traffic situation (e.g. stop sign, traffic lights, radar, ...)
- Road book support (e.g. restaurants, petrol stations, finish line, ...)
TIP: At the beginning of each road book, you will find a legend with the symbols used.
In the last column, you will find a written explanation of the waypoint.
This may be the name of the street you need to take, an announcement, a warning or other information to support the road book and make it even easier.
Intersections not included in road book
In that case, you should continue to follow the main road.
Dead-end roads
These are never included as directions unless specifically mentioned in the description.

Deviating situations
Every road book is prepared with great care, but traffic situations change rapidly. This can even make some roads (temporarily) inaccessible. The round trips will be ridden a few times in the days before, and an adapted mini road book will be added.


Always drive safe!
On public roads, each participant in a tour must at all times adhere to the road code with respect for people living in the vicinity of the route.
What is it?
A trip meter is an indispensable tool in road books that on the one hand shows you how much you have to ride to the next waypoint (partial counter) and on the other hand shows you how much you have already ridden in total at that waypoint (global counter). In addition, it can also display various peripheral information such as your average speed.
How does it work?
At each waypoint you reset the partial counter, so you know exactly when the next waypoint is on your track.
Which one?
For Android users we recommend this app, iOS users are best off with this app.
Advanced users can, of course, also work with a classic trip meter that you install in your car.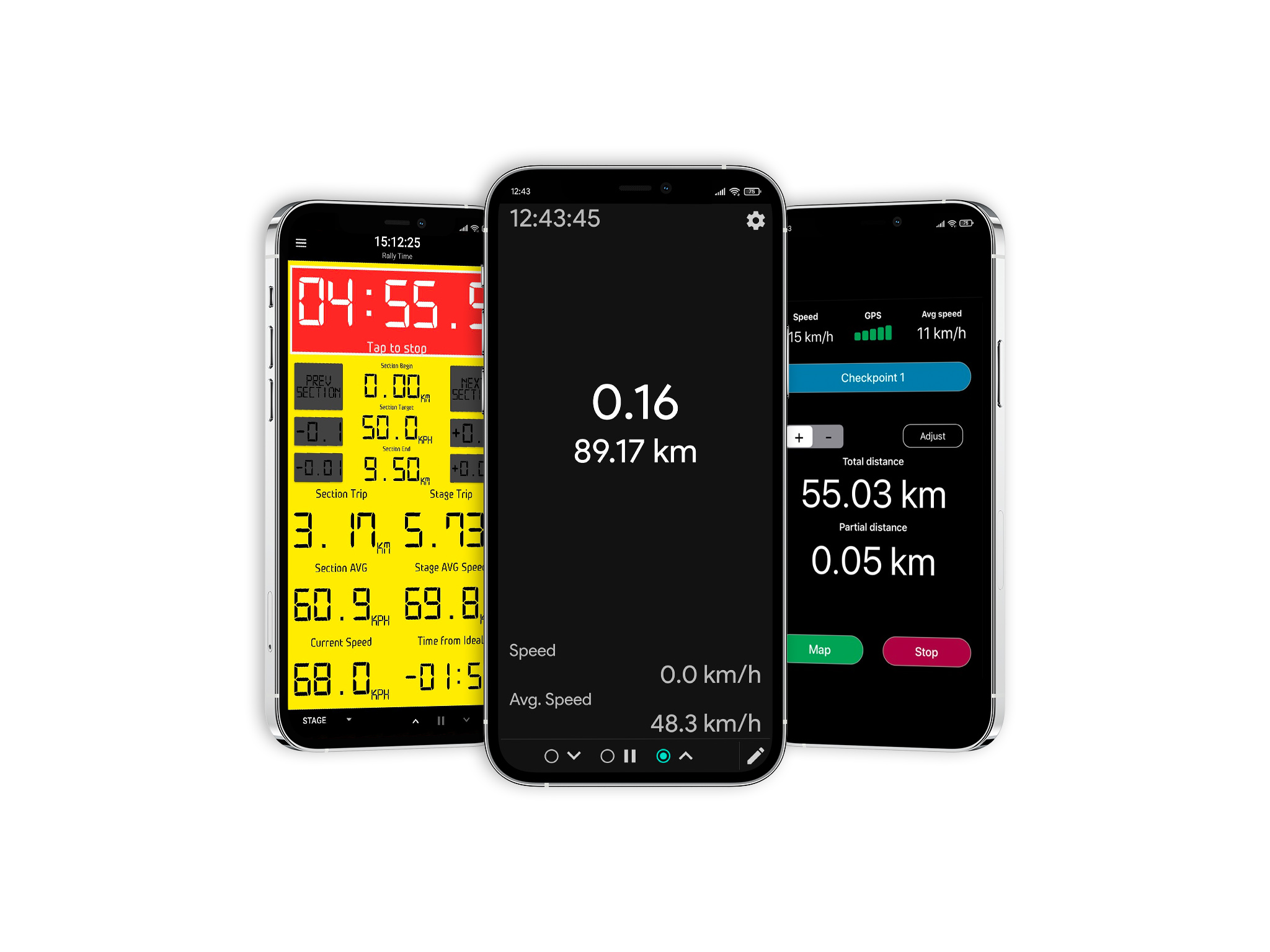 Take your Ford experience to the next level and join our tours. Throughout the year in various forms.