/** * @var $module \Ucraft\Module */ ?>
Sophie V. - 2021 Ford Focus ST

Thanks to the organization and everyone for this awesome experience.
It was a blast, can't wait for the next one!!

Marcel d.W. - 2010 Ford Focus RS500

Had a great weekend, thanks to the organisers.

AB Automotive - 2021 Ford GT

What a weekend! We were very happy to sponsor this unique event. Thank you to Ford Performance Club for the great organisation, it was a blast!

Jean-Paul D. - 1969 Shelby 427 S/C Cobra

A nice and well organised day.

Marco R. - 2020 Ford Mustang GT500

What a weekend! My only inheritance and I drove through Belgium, Luxembourg and Germany with the Ford Performance Club and many other Ford friends.

Kevin D. - 2021 Ford Fiesta ST Edition

See you at the next event always a blistering experience!

Adelbert E. - 2016 Ford Mustang

Thanks for this great weekend. It was super organised.

Sebastiaan v.d.P. - 2021 Ford Puma ST

Thanks for a great weekend!
Route was a lot of fun and we enjoyed all the cool cars.

Patrick V. - 2019 Ford Mustang

It was a nice trip, perfectly organised.

Gino V. - 1986 Ford Sierra RS Cosworth

Thanks for the beautiful ride, we enjoyed it! Certainly worth repeating.

Roy B. - 2006 Ford Fiesta ST

I enjoyed every second of the event! Well organised and a beautiful route! Made some nice memories.

Rhune S. - 1968 Ford Mustang CS GT

I enjoyed the great tour! It is worth repeating! Thank you very much for the beautiful and good organisation.

Dieter C. - 2019 Ford Focus ST

Even with corona, it was top-notch.

Viandro D. - 2020 Ford Mustang

Very well done and many thanks for the great day.

Valentino D.G. - 2020 Ford Fiesta ST Edition

It was a great day! RESPECT for what you do.

Francis A. - 1980 Ford Escort

Thanks, it was a nice ride! Definitely worth repeating.

Karel V.L. - 1986 Ford Fiesta Zetec

Thanks for the great experience!

Danny L. - 2007 Ford Mondeo 2.5 Turbo

On behalf of Ford team Flanders: We had a nice day. Ride was awesome, saw a lot, well done. Congratulations!

Patrick D. - 1967 Ford Mustang

Thanks to the FPClub for the nice tour and nice fellow drivers, see you next time!

Kevin F. - 2019 Ford Fiesta ST

Thanks a lot to everyone, it was a TOP DAY!

Fabian S. - 2017 Ford Mustang GT

Wonderful weekend with Ford Performance Grand Tour. Thanks to the organisers!

Gert A. - 1977 Ford Escort

Thanks for the nice ride and the good organisation corona proof!

Marine C. - 2019 Ford Fiesta ST

Thank you for a great experience, so many beautiful cars.

Thomas V. - 1979 Ford Mustang Foxbody

Thank you to the organisation. Excellent organisation. Up to the next one!

Anthony J. - 2020 Ford Focus ST

Thanks to all and superb organisation!

Pedro D. - 1982 Ford Fiesta

Thanks to the organisation and nice ride!

Charles G. - 2020 Ford Mustang

Beautiful journey, thank you.

Vitor N. - 1986 Ford Sierra RS Cosworth

456 km + 9 hours of driving + good weather + good routes + super organization = A great Sunday well spent ... Top top top! See you next time!

Giovanni Q. - 2020 Ford Mustang 55th Anniversary

Thanks to everybody involved for this event! It was our first tour and it was awesome!

Ismic A. - 2020 Ford Explorer

Nice day, top organisation. Thanks!

Dirk B. - 1989 Ford Escort XR3i

Thank you for the fun, corona proof organised ride.

Diego F. - 1975 Ford Escort

Thanks for the very nice ride, definitely worth repeating!

Ashwin R. - 2018 Ford Fiesta ST

A thank you to the organisation, well done.

Andreas L. - 2004 Ford Mondeo ST220

Fun is not a straight line. Thanks for this famous Grand Tour We enjoyed the roads and the superb organisation!

Tom S. - 2017 Ford Edge

Congratulations folks, it was well organised.

Johnny V. - 1986 Sierra RS Cosworth

Well done, especially organising something in these times!

Stefaan V. - 2017 Ford Focus ST

Was nice day, thanks to everyone.

Guy W. - 1966 Ford Mustang Fastback GT

Thank you very much. It was great!

Kevin v.d.Z. - 2020 Ford Ranger Raptor

Thanks for all it was great!

Jonas P. - 2020 Ford Focus ST

Thank you for the nice day. ?

Bert D. - 2006 Ford Fiesta ST

Thanks for providing us with a super fun and well-organised tour and this completely coronaproof!

Dirk G. - 2014 Ford Focus ST

Great day, thanks!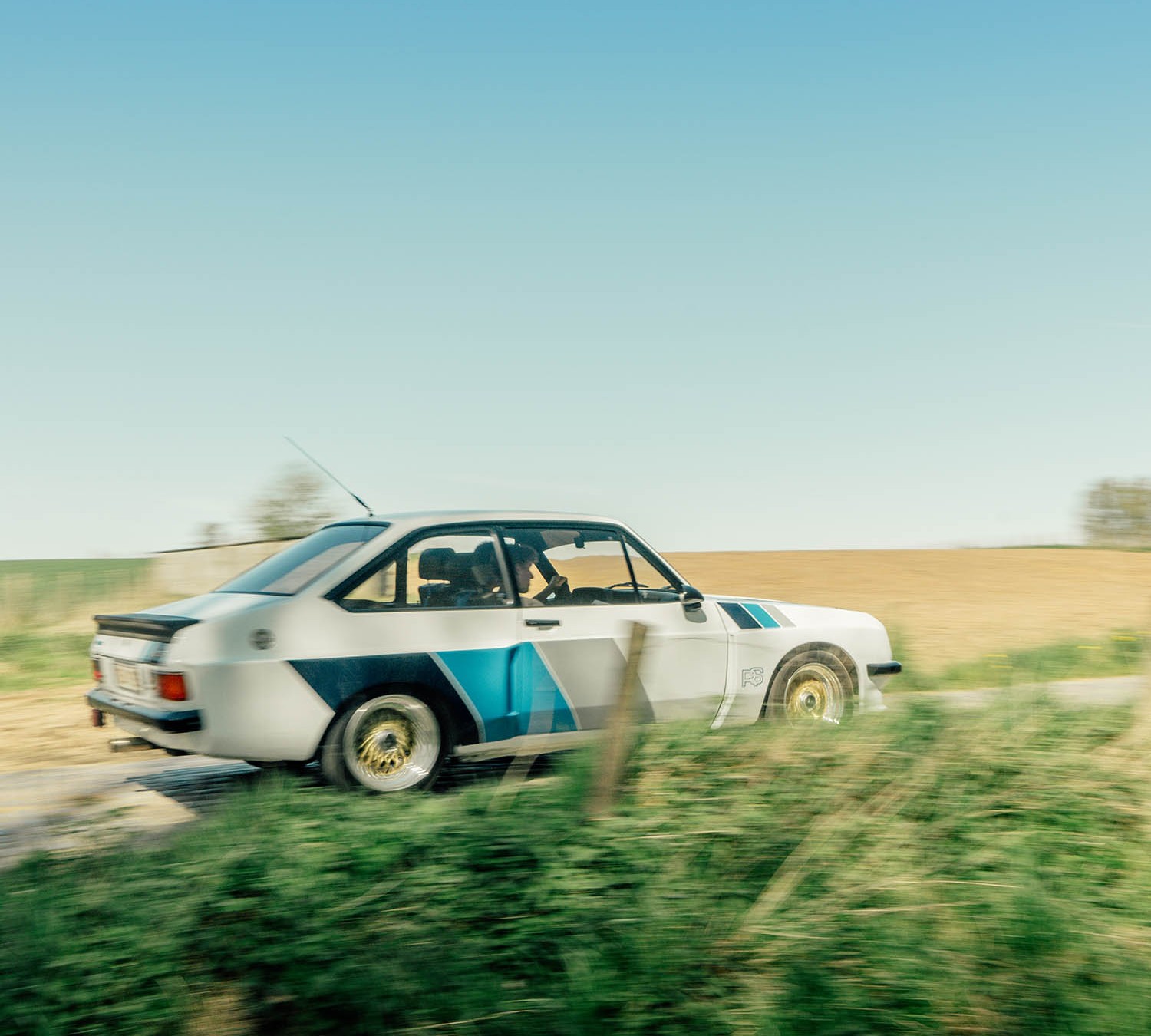 We love to share our passion for driving with you, throughout the year you can take part in a series of car tours in various forms.
With the help of an extensive road book, you will enjoy a selection of exceptional roads through beautiful scenery where you wouldn't normally come.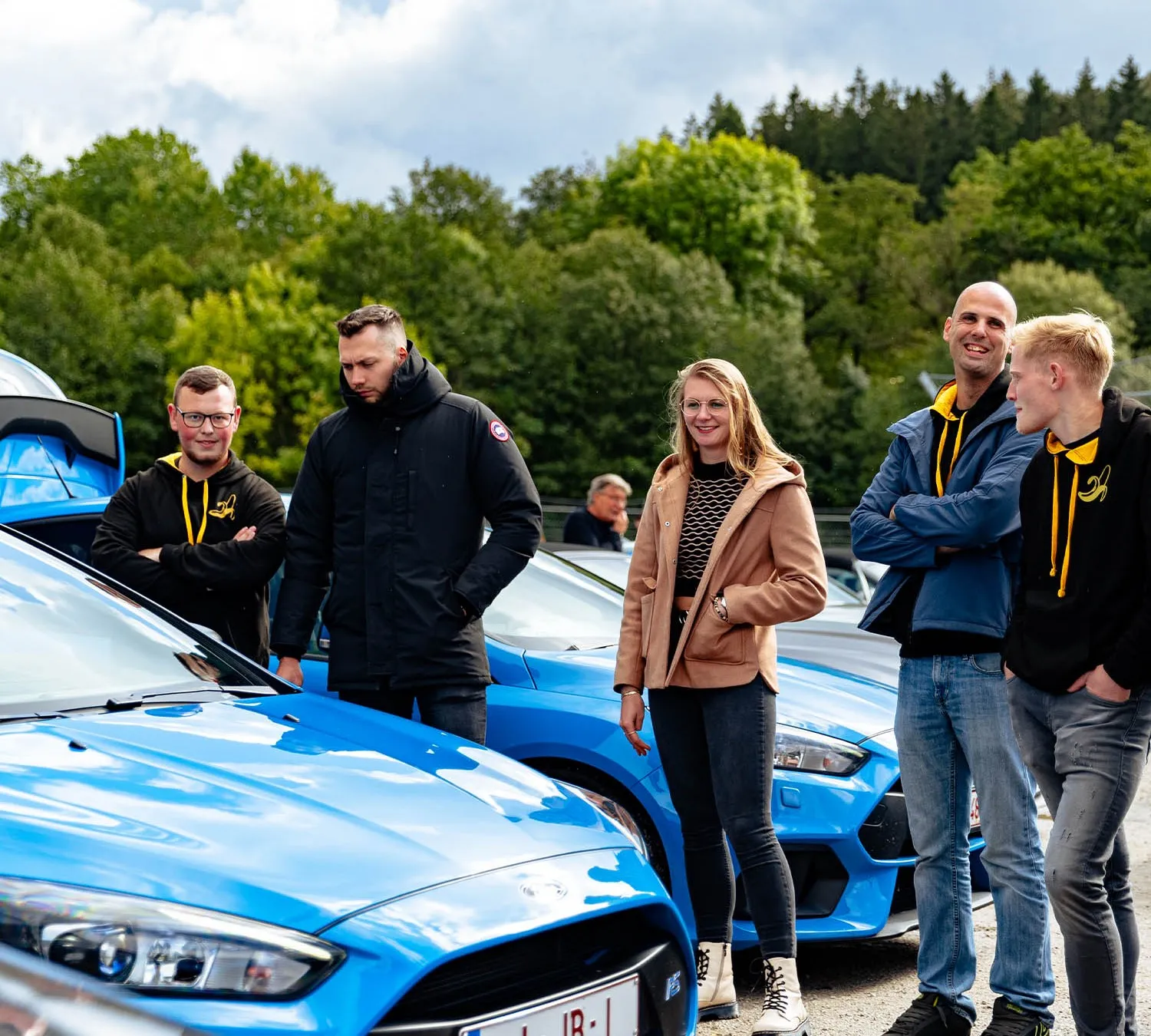 Occasionally, we also organise and support Ford meetings. Always a fun opportunity to meet new Ford enthusiasts in a relaxed atmosphere. We are proud to have been part of the Ford Mustang 1001 World Record Parade and Ford Clubs Day, among others.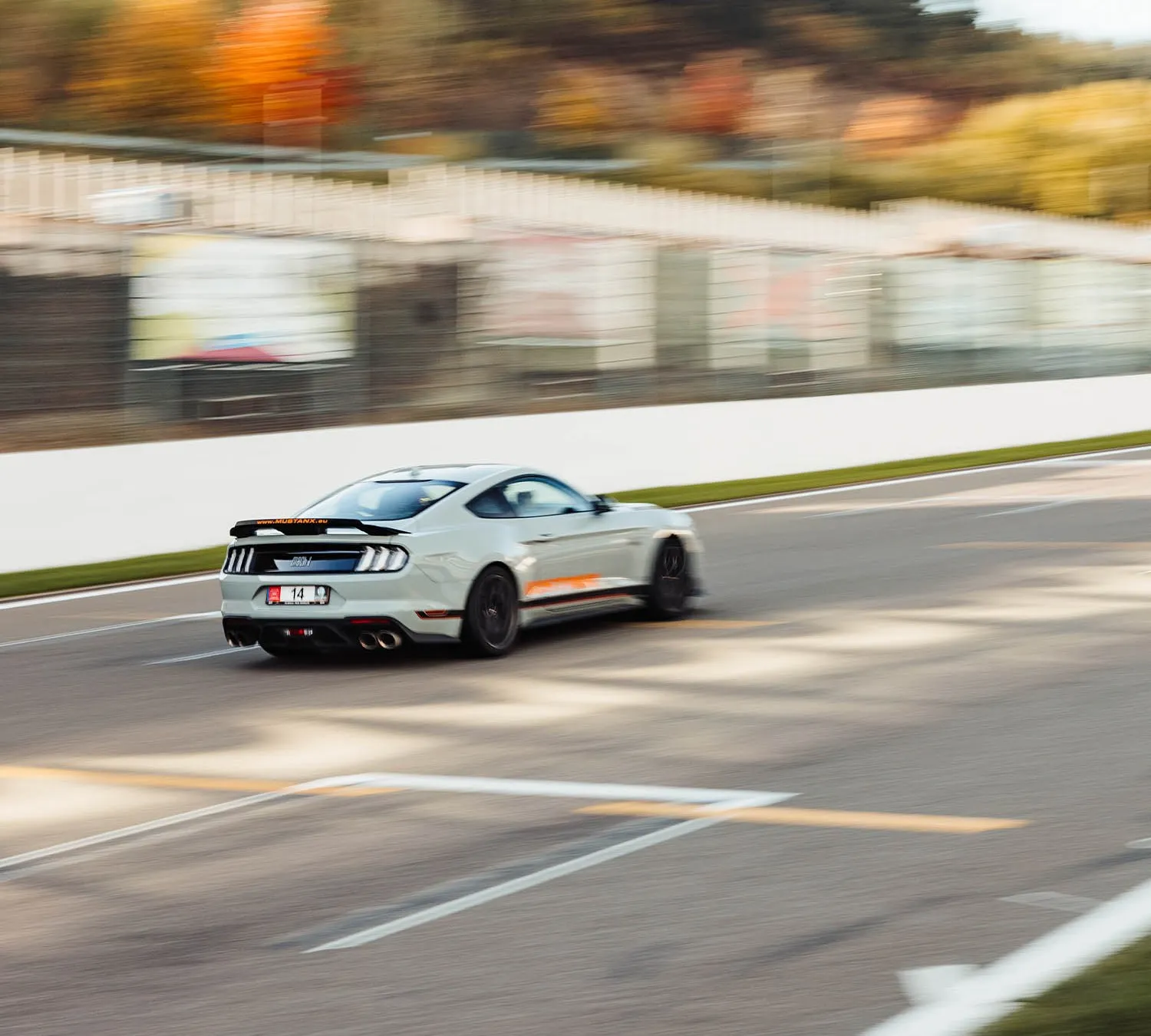 On our track days, both beginners and experienced pilots can enjoy themselves on a real race track in a safe and professional environment. You get the unique opportunity to get the most out of your Ford.
Depending on the event, you will get the possibility of coaching for all levels. Want to take it to the next level? The drift school days are definitely the right thing for you!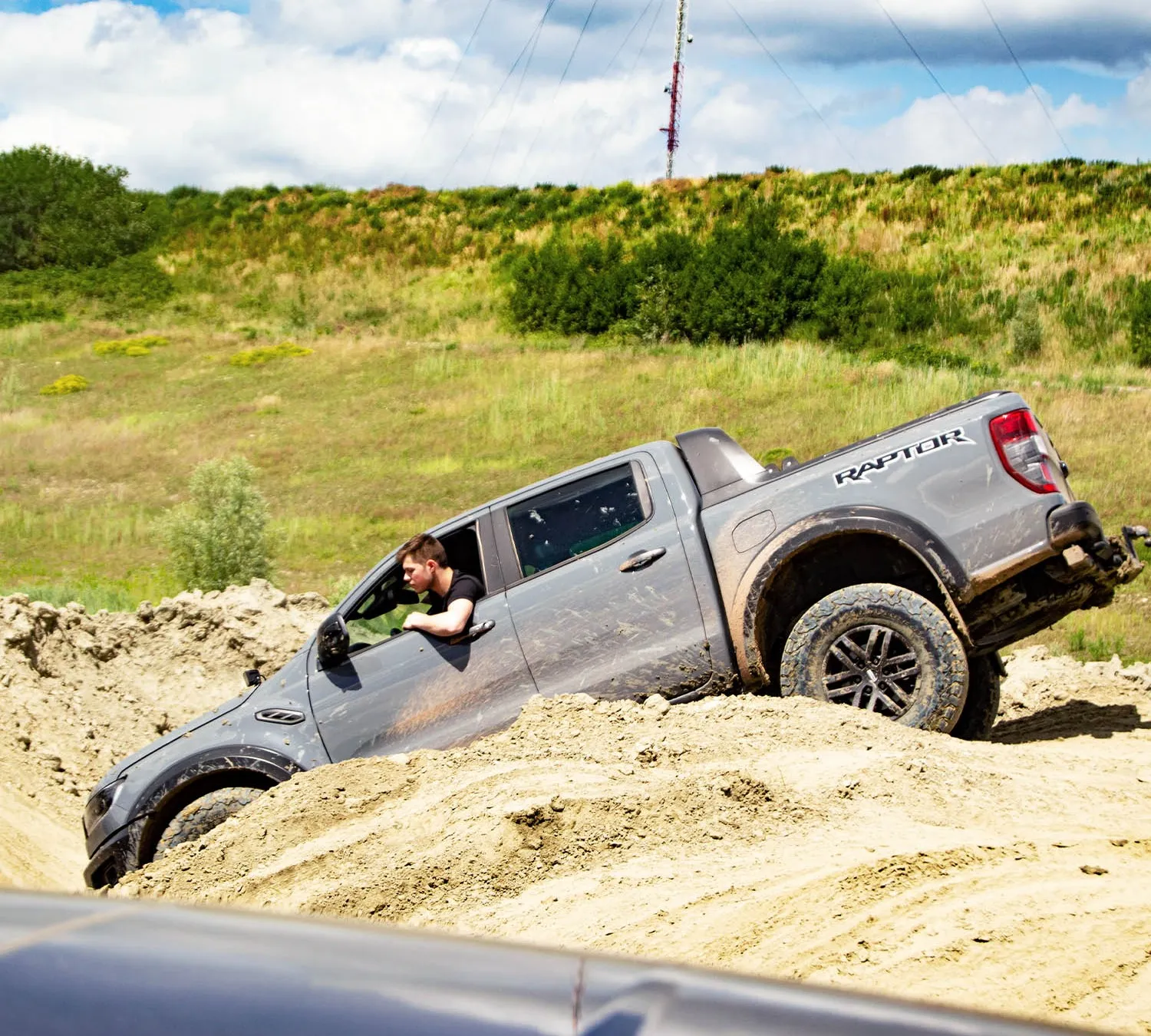 Ford has several cars with excellent off-road capabilities and that demands a fun trial. That' s why we organised our first off-road event in 2022, the Ford Ranger Experience Day. On this day, for once, we will not go on the track, but rather off road!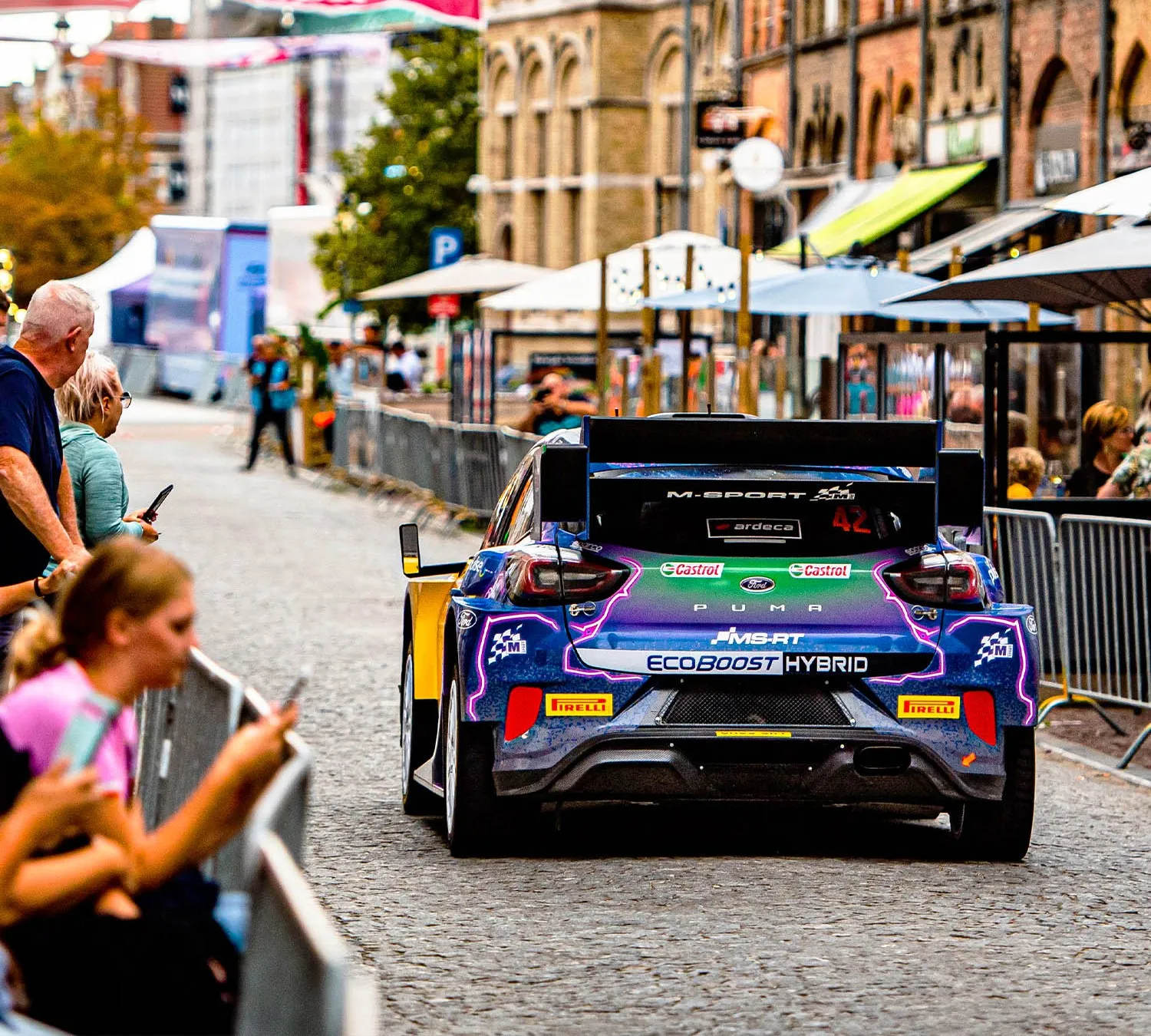 We are directly involved in motorsport. On the one hand by promoting drivers who are active with a Ford and on the other hand by organising competitions ourselves, such as the Fiesta SportTrophy and the Mustang Trophy.